Basics

There are plenty of bingo rooms in the games Lobby. The first room is open, and this is where you start from - tap on it to begin playing. Other rooms are locked, but they are easy to open - just play Bingo and reach the level displayed on the room's lock. Every day we add a new bingo room for you to enjoy.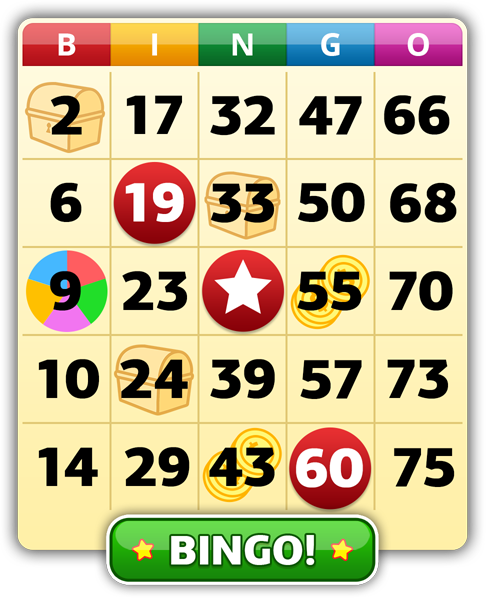 The gameplay of our bingo is based on classic bingo rules. At the beginning of the round, buy from 1 to 4 cards. Use bingo chips to buy them. Each card has 24 numbered cells and one free cell in the center. Every cell contains a number between 1 and 75.

The round starts, and the host (caller) begins to draw numbers from 1 to 75 at random. The most recent numbers are displayed above your Bingo cards. Mark (daub) them on your cards as they are called. When you find that the marked numbers are arranged on your card in a winning pattern (a row, column, diagonal, or 4 corners), claim Bingo by tapping the Bingo button on the card. The Number Display Board on the right keeps track of all the numbers called in a game.

Classic Bingo patterns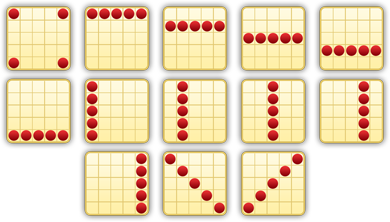 There are other bingo players in the round with their own set of cards playing with you. Every bingo round has a total (maximum) number of bingo to be claimed. The round ends as soon as one of the following happens:

the total number of bingo were claimed during the round,

you claimed bingo on ALL of your bingo cards. (in this case, the round ends only for you, and the rest of the players continue playing),

a caller draws all the 75 balls (numbers).

At the end of the round, collect your reward which may include XP points, coins, bingo chips, boosters, and puzzle pieces.

Game Currencies


XP Points

Gain XP points to increase your level and unlock more Bingo rooms! Every good daub results in 1 XP point. The XP reward increases as you level up. You may also get XP points as a reward for claiming bingo, level up, or from the chest.


Coins

Coins are the main currency. Use them to buy Boosters, Frames, and Daub Shapes.


Bingo Chips

Use bingo chips to buy bingo cards before the round.


Puzzle Piece

Every Bingo Room has a collection of 12 puzzle pieces. Collect all of them to complete the Collection and get a fantastic reward! You could find Puzzle Pieces in Chests.

Boosters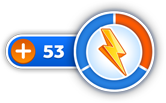 Improve your Bingo chances with Boosters! Charge Booster by daubing three spaces correctly. Once used, the booster is frozen for 10 seconds. Always buy enough Boosters in the SHOP before starting a new game! If you run out of boosters during the round, you can buy more by tapping the + button on the boosters panel. Boosters are divided into categories: common, uncommon, and rare.

Common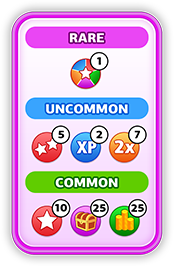 Single Wild

Receive one free Wild Cell on each card.


Chest

Receive free Chest Tiles for each card.


Coins

Receive free Coins Tiles for each card.

Uncommon


Double Wild

Receive two free Wild Cells on each card.


Double Payout

You will receive double the Coins at the end of the round.


Double XP

You will receive double the XP points at the end of the round.

Rare


Instant Bingo

Receive free Instant Bingo Tiles for each card.

You can always check your current amount of boosters in the Boosters section of our Shop.

Bonus Tiles

At the beginning of the round, some card cells are filled with bonus tiles. Daubing such a tile gives an additional reward. Some boosters (Coins, Chest, Instant Bingo) spawn extra bonus tiles on your cards.


Coins Tile

Daub the Coins Tile to get additional coins at the end of the round.


Chest Tile

Daubing the Chest Tile will allow you to open the chest at the end of the round. Chests contain rewards - Coins, Xp, Bingo Chips, Boosters, and Puzzle Pieces.


Instant Bingo Tile

Receive an immediate Bingo when daubed.

Game Features


Special Patterns

Some Bingo rooms have a special pattern mode. Instead of the classic bingo patterns, you need to use special patterns to claim bingo and get additional rewards.


Daub Hints

Use Daub Hints to highlight the correct numbers when they are called. You'll never miss your bingo with it. The Daub Hints feature is active for a certain amount of time. You can buy additional Daub Hints time in our Bingo Shop.


Auto Daubs

Use auto daubs to make your game of bingo even easier. It daubs correct numbers automatically.


Daily Tasks

Check the Daily tasks tab - it shows special conditions to receive various rewards. The list of tasks changes every 24 hours. So don't miss your chance.


Bonus Wheel

Spin bonus wheel in the main lobby to get free coins and bingo chips. You get one free spin every 2 hours. Tip: Double your bonus wheel winnings by watching ads.

Premium Club
The Premium club is a special premium lobby full of our best-selected bingo rooms available via subscription. Choose from weekly, monthly, or annual subscription plans in the game store and try Premium Club for free with a 3 days trial offer. Don't worry; you may cancel anytime. Enjoy more than 150 exclusive bingo rooms with special patterns.

Exotic Rooms

If you need a break from a classic bingo experience, tap the More Games button at the bottom of the lobby. Unlike classic rooms, every exotic room has different rules and win conditions.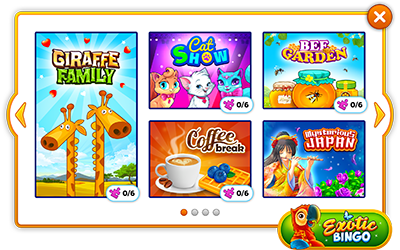 Inventory

You can get access to your inventory from the main game menu.

Profile

Here you will find your game statistics, progress, and main information about you. You can also switch your profile between public and private.

If you wish to change your display name, your avatar, or your country flag, then tap the edit button near the corresponding item.

Connect with Facebook

Log in with your Facebook account and share your game achievements with friends. This will also allow you to restore your game progress if you buy a new device.

Avatars

Choose from dozens of predefined avatars or use your Facebook profile photo instead.

Display name

Pick any display name you want and edit it anytime.

Country Flag

Choose any country flag you like. Pick the Bingo flag if you feel yourself a Bingo citizen.

Avatar Frames

Apply various frames to your avatar image. New frames are unlocked as you progress through the game. There are some frames that only could be purchased.

Daub Shapes

You can change your dauber shape and color. There are a lot of shapes to be opened.

Game Settings

There are some settings to personalize your play style. You can find these settings in the main game menu.

Game Speed

You can speed up or slow down the game to make it more comfortable for you. Please note, that game speed could only be changed before the round starts.

Sound Controls

There are separate sound settings. You can turn on or off the music, sound effects, voice-over, and rhymes.